foam and plastic center for attachind discs
M-Design has his own production of CD/DVD foam hubs and spiders. It is a realy reliable method for attaching a disc into a book, a brochure, a folder or a catalog, if some other special disc's package is not intended.
The disc is inside, no danger to be scratched, stays in the book/ brochure/ catalogue as an optical media, providing aditional information to the already printed. A proper graphical design of the page where the disc belongs, could make the disc an element in the entire composition, not an unexpected object.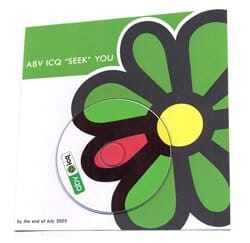 M-DESIGN produces two types of CD/ DVD centers/ clips: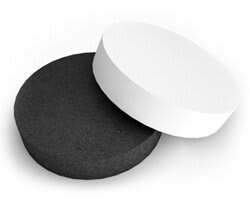 Foam hub/ dot 
diameter: 15 mm
height: 3 mm
material: foam
color: white and black (other colors by order for more than 3000 pcs.)
attaching the disc: friction in the disc center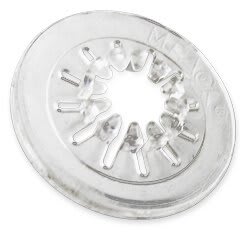 Plastic spider/ clips 
diameter: 32 mm
height: 4 mm (incl. board)
material: plastic
color: transparent (clear)
attaching the disc: clips in the disc center
Our own production line - warranty for quick supply and quality.
The production is marked with the trade mark M-PACK®